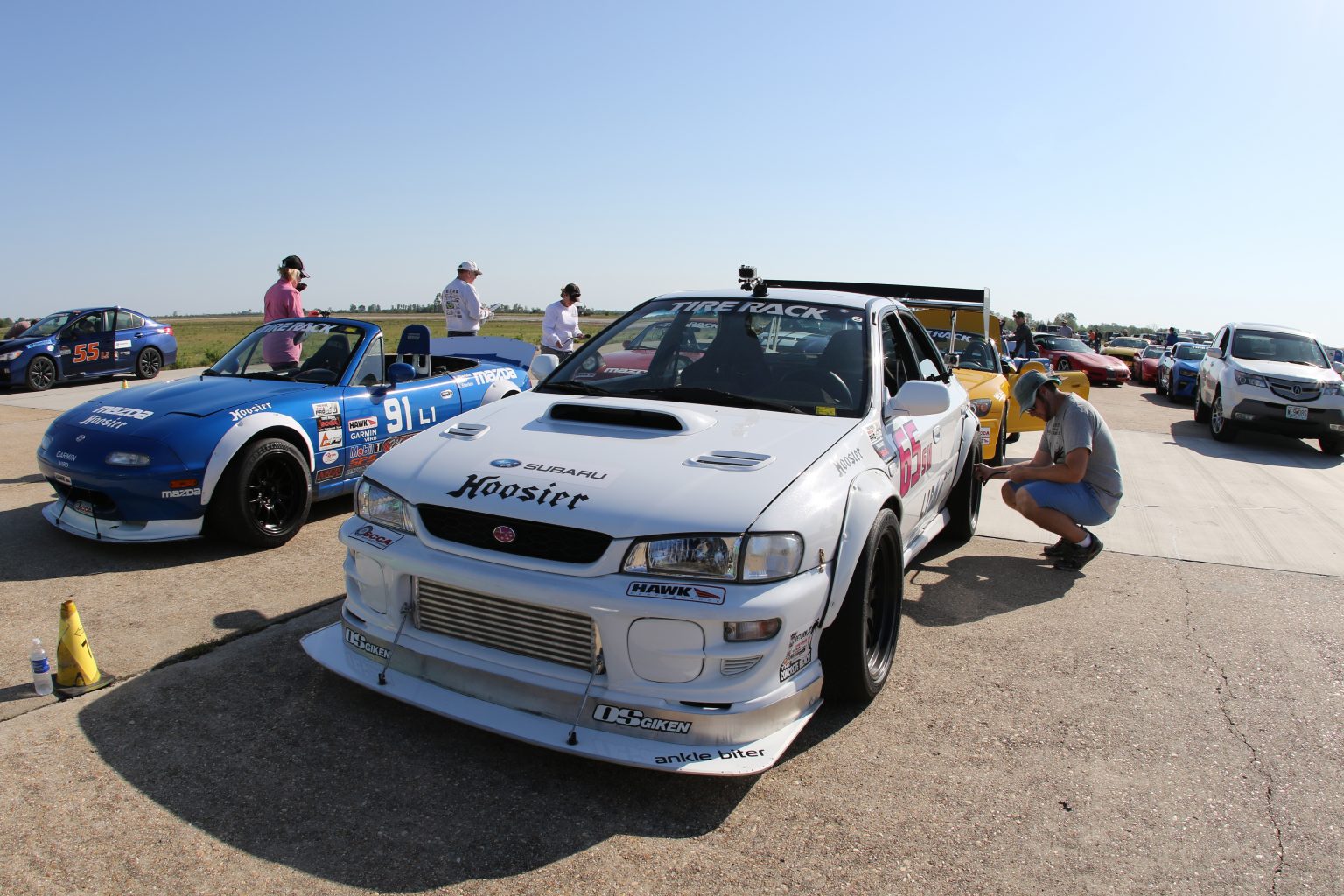 I had the amazing opportunity to hop into someone else's car for a ProSolo for the first time. Tim White and his 'Whitebaru', a SM-prepared 2000 Subaru RSTi that runs on corn fuel and contacts the ground with purple crack. It was my first time on Hoosiers since 2012, where I drove Jay Storm's FP Subaru Impreza L build. I was recovering from an abdominal surgery just 2 weeks before, and hadn't even had my follow-up yet with my doctor (who was not pleased at my, ahem, shenanigans.)
My first impressions were this: *Sploosh*. Holy Shitsnacks. Rocketship. Grip. Much Wang. I hope I don't fuck this up. Followed by:  Stop redlighting everything. Wait till its pretty much going green before you go, because it GOES. Stop pussy-footing it. Go for broke, it wants it.
As Tim said "Between 70-90%, its crap. Between 90-110%, its magic." This turned out to be very true, as the more I gave it, the more it said 'ok, is that all you've got?'. I felt invincible for the first time at an event, with my downfall entering into corners too hot by the time I was comfortable. He gave great feedback, and comparing my data with his enabled me to gain the confidence needed to pick up another .4 in the last session. I watched him take first in Bump class (B4) by a good margin, also with first place points in SM.
Finished 2nd Place in L1 out of 14, but with first place points in L1 going into the Finale for the overall championship due to bump. Now I have to consider if I go for it and enter into another event (have 20 points now, need just 12 more to qualify for the Finale first-round). Amazing competition, amazing car. Tim, your car has officially ruined me.